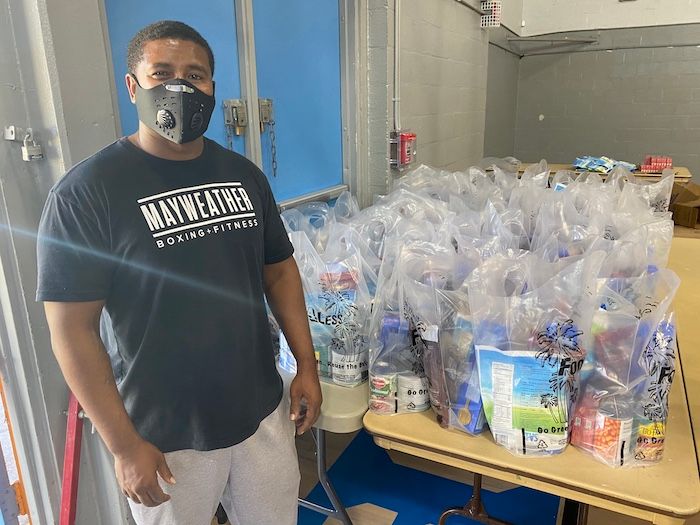 Our donors are making it possible for us to continue responding immediately to some of our Local Heroes' most pressing needs during the COVID-19 crisis.
To date, we have provided over $70,000 in Emergency Grants to our partners on the frontlines of the pandemic from Watts to Johannesburg to Mumbai, all thanks to you, the GO Campaign community.
Together we're doing our part to ensure the health and safety of thousands of children around the world. We owe it all to you, and our work is not done.
Because of you, thousands of children are safe and healthy
In New York City, the hardest hit U.S. city in the coronavirus pandemic, we are helping GO Local Hero and CNN Hero Dr. Rob Gore and his staff at Kings Against Violence Initiative (KIVA) continue to support to over 160 students. They are providing groceries for students experiencing food insecurity, disinfectant supplies and protective equipment to students who have become caregivers to their sick cohabitating relatives, urgent transportation to a safe place for youth who are experiencing trauma ay home and wellness visits with a licensed counselor to students most in need. The students' lives have been completely uprooted: moving to online classes, becoming family caretakers, losing household income, struggling to find necessary supplies, and many grieving over the loss of loved ones to COVID-19.
In Kibera, Kenya, we are supplying 155 girls  with a 4 week supply of hand sanitizer and disposable face masks at at Kibera Girls Soccer Academy (KGSA). Due to limited access to water, they would not be able to clean reusable cloth masks. There is fear that if it reaches the slum that they will not be able to curb the spread of the virus due to the number of people living in close quarters with no access to running water.
In Tanzania, we are providing a remote leper colony (where there is no running water) with hand soap for washing their hands, sanitizers, wipes, masks, disinfectant and medicine, so they can prepare and ensure that families are ready and can stay safe and healthy should coronavirus spread to their community. In addition to the support for individual families, they will be able to stock the shelves of the dispensary with supplies and medicine in case the clinic has to treat patients with coronavirus.
In Ethiopia, a matching grant form GO is helping provide $100 to 100 families to purchase food, medicine, rent and supplies for women and their families whose households no longer have income due to lockdowns and increasing social distancing measures. Studio Samuel's microloan program has enabled many of these women to become the breadwinners of their families, and right now their businesses are on hold due to the virus.
In Kenya, we are providing 600 masks to the children and their families at Transforming Communities for Social Change. Right now, it is now a criminal offense to walk around without a mask in Kenya. These masks will ensure families won't suffer the consequences of not having a mask, which is 6 months in jail or a fine of $188.
Because of you, children have access to proper nutrition 
In Senegal, we are feeding thousands of homeless street children who are suffering, as the restaurants and bakeries who use to offer them food have closed. Another lifeline, generous pedestrians, are scarcer and often afraid to get close to the children. Maison de la Gare has been feeding thousands of boys for several weeks and can continue to do so for several more thanks to your support.
Because of you, children continue to learn
On Chicago's Southside, we are providing their staff and volunteers at Future Ties with protective equipment such as masks and gloves as they serve three meals a day to hundreds of families. Funds will also provide 50 families with masks, hand sanitizer, disinfectant supplies, and educational care packages for their 40 youth who are at home while schools are closed. Many of the kids in need have parents who are deemed essential workers and they don't have the option to stop working; their increased exposure puts their entire family at greater risk.