JENNIFER MADDOX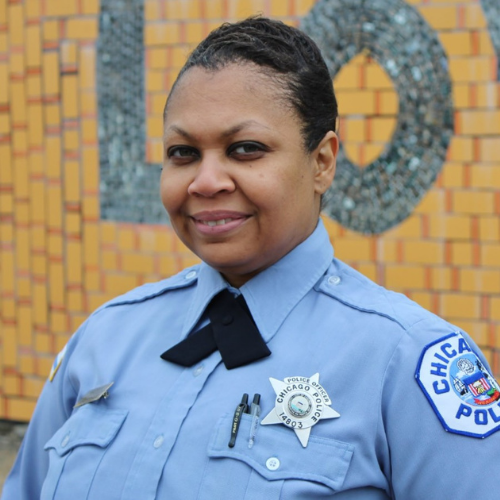 Biography
Jennifer O. Maddox, born in Chicago and was raised on the south side. Jennifer graduated from Corliss High School. She received a Bachelor of Arts in Criminal Justice at the University of Illinois, Circle Campus. She earned her M.B.A. from St. Xavier University, and Jennifer is currently enrolled at Lewis University pursuing an ED.D, in education focused on early childhood development. Jennifer is an alumna fellow with the University of Chicago Civic Leadership Academy and the Erikson Institute Early Childhood Leadership Academy.
With 23 years of service with the Chicago Police department and currently working in the former Office of Community Affairs (now Office of Restorative Justice Strategies), she fights to educate, protect, and serve communities. Jennifer is a single mother of two African American males, and a new grandmother to a beautiful grandson, Caden. Jennifer knows and understands the struggle parents face trying to protect and parent our youth, this is why she strives to make our community better and a safer place to live. 
This passionate conviction is why she founded, Future Ties NFP. In 2011, Jennifer incorporated a 501c(3) non-for-profit organization that provides afterschool and summer programs. Future Ties provides a safe place where our youth can come  aand experience love, support, and protection from the trauma and violence they face daily. Future Ties also trains parents, as well as the youth (teens) of the Woodlawn community, (primarily residents of Parkway Gardens Apartments) with workforce development skills needed to be competitive in the workforce. Jennifer, through Future Ties, meets the needs of the community. 
Jennifer was nominated and received honors nationally as one of CNN's top ten Heroes for 2017 and A Woman of Worth (L'Oreal) 2018. She also has been acknowledged as "someone you should know" by ABC 7 and has been featured on many media outlets including The Today Show and Good Housekeeping. Jennifer received a Humanitarian honor from the Anti-defamation league. Jennifer was nominated and awarded as one of Chicago's 20 most inspiring Chicagoans. 
Jennifer decided to answer the call to serve the community of the 20th Ward, she has launched her candidacy for 20th Ward Alderman. On February 26, 2019, the election was not in her favor but the community will shine brighter because Jennifer continues to fight, serve and have hope for all communities.